Roadside Assistance App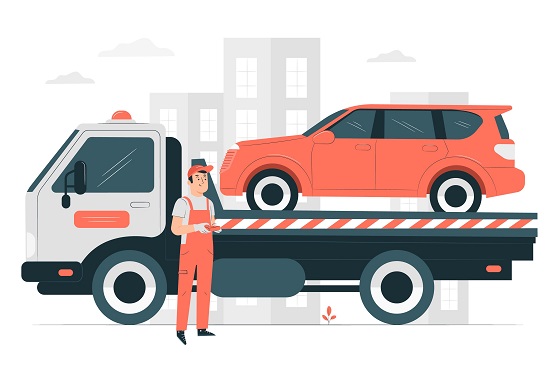 Today people have a great passion for travelling. It is not a big deal if we say people invest a massive amount in traveling worldwide. Often we see the highways are filled with several vehicles. Have you ever thought about the situation when your car got stuck on the road? Have you ever thought about what roadside assistance app businesses do?
Well, don't worry! Roadside assistance apps are an excellent solution for you when you are stuck on the road. Such apps have become only the widely used on-demand apps for roadside assistance that parallelly shape your business.
Roadside assistance service combines different but similar road services that organizations offer to their app users. These services may incorporate vehicle repair services, flat tire, empty fuel emergency, battery emergency, car lockout, towing emergency, etc. In a combinatory, roadside assistance provides on-site services to make the vehicles functional again.
Roadside Assistance app is an immediate solution to get assistance from repairers available on the app. Therefore, using these apps is convenient and getting the required services. Moreover, it saves your surfing time for road assistance services on the internet as it is not a good deal to rely entirely on the information available on the web.
Thus, it is good to go with a roadside assistance app to get smoother and faster vehicle services. It enables you to call the required roadside assistance service with just a few clicks at any place or time.
Benefits of Roadside Assistance App
Roadside assistance mobile apps are an evolving business as several people have private vehicles. In addition, several research data show that the demand for personal vehicles has increased at rocket speed after the pandemic. Thus, the demand for roadside assistance services has also increased. People hire such services when their cars stop working and need roadside assistance. The roadside assistance app helps them get the required services within a few clicks.
There are several benefits of roadside assistance apps described below:
1. Quick & easy access
Drivers and admin can quickly and easily access roadside assistance service providers' contact information and vehicle information.
2. Security
Almost all roadside assistance apps offer built-in payment gateways; such payment methods are highly secured to keep users' information confidential and secure. Hence users can efficiently and quickly make payments for the hired services without worrying about data security.
3. Mobile Accessibility & View
You can access roadside assistance services using your mobile devices and view everything in the app's environment.
4. Affordability
Booking roadside assistance service using apps is more affordable than looking for someone using the internet. Moreover, you can also get a price estimation before booking the required service, so it becomes a fair deal in advance.
5. Feature-filled
Roadside assistance apps offer several features, including in-app cling, real-time services tracking, payment gateways, reviews, and ratings, ensuring a highly intuitive and seamless user experience.
6. Comprehensive Services
Vehicle repair services, flat tire, empty fuel emergency, battery emergency, car lockout, towing emergency, etc.
7. 24/7 availability
People can easily access the services anytime, anywhere, whenever required.
How It Works
Want to build your roadside assistance app? We offer a custom roadside assistance app to help service providers & customers connect in real-time. Let's discuss how it works in four easy steps.
1
Purchase
Purchase a pre-built, white-label, and tested roadside assistance app from UBERApps.
2
Rebranding
We rebrand the roadside assistance app through design and backend customization as per your requirements.
3
Deploy
Deploy apps on app stores (Google Play, iTunes) and admin panel setup.
4
Support and Maintenance
We will take care of all your installations, updates, and maintenance.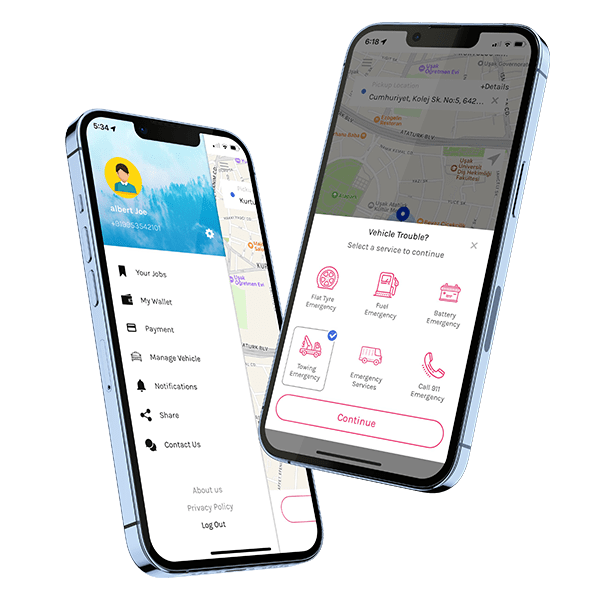 How do Roadside Assistance Apps make money
There are different ways available to choose to generate revenue from roadside assistance apps. Below we have listed some of the best revenue models which you can choose to generate huge profits from roadside assistance apps:
Commissions
A certain percentage of each booking goes to the roadside assistance app owners.
Advertisements
App owners run marketing campaigns with other brands, including car and car service centers.
Paid Apps
This monetization model allows the user to purchase the app with a one-time fee for a lifetime license.
Loyalty Points
To sustain revenue, you must provide them with specific benefits for their loyalty in some way.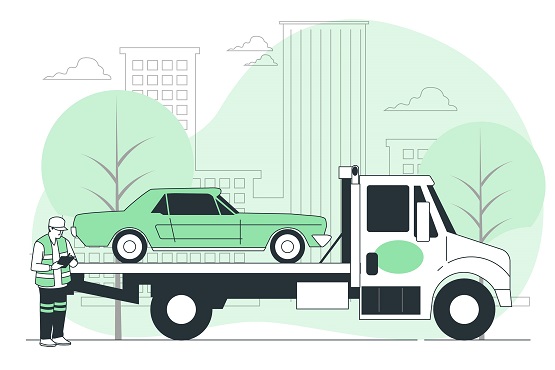 Roadside Assistance App Features
Are you planning to build a roadside assistance app? These are the general features to include in a roadside assistance app.
Reviews and Rating
Customers can give reviews and ratings at the end of the service as per their experience of the services and service providers.
Refer and Earn
Let customers and service providers invite their friends and help you increase the user and driver base. If any referral joins, then the referee will get benefits.
Chat Module
Once a service is booked and accepted, the service provider and customers can chat via text messages.
Real-time Tracking
Customers will get real-time updates and notifications for rides accepted, estimated driver arrival time, begin the ride, end ride, or cancel.
Booking History
Customers can view all the services completed and canceled, including details of services, amount, and time.
Earnings
Service providers can view their daily and monthly earnings, including total services. He also has an option to view his wallet's current balance and details.
Ready to get started?
UBERApps - A fully customizable SAAS product, the best selling solution in the market.
Contact Us